Description
Powerful Waterproof Megaphone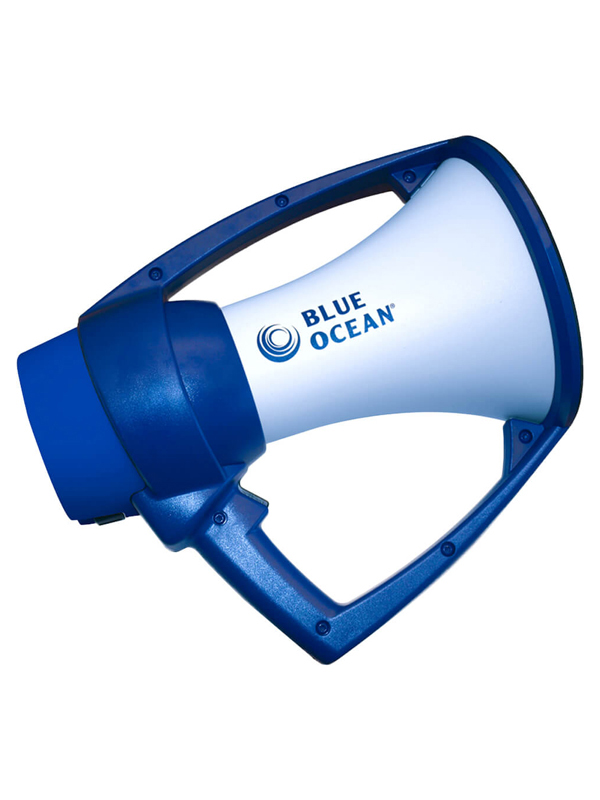 DESCRIPTION
The waterproof Blue Ocean Rugged Megaphone is a powerful voice projection instrument, developed to provide reliable audio communication – even in the most rigorous of environments. Designed originally for the rowing industry, these megaphones have become extremely popular with military, fire and police departments, and others who need to be heard by a large group of people.
This megaphone has been designed for a comfortable, secure grip and is shaped to deliver optimal sound. Drop-tested and waterproof, the Blue Ocean Rugged Megaphone is intended to assist with communication when and where it is most critical to be heard.
The Megaphone provides loud, clear audio with a long-lasting battery and a buoyant, waterproof, and drop resistant exterior.
It was uniquely designed and carefully built to defy severe weather that commonly ruin other megaphones; corrosion, cracking, breaking, and water damage.
All Kestrel instruments are made in the USA and are backed with a Five-Year Warranty.
Features
Microphone located at the top of the unit allowing for clear sight lines above the megaphone while speaking into it

Protective bumper adds shock absorption and protection, great at protecting when the horn is placed face down

Wrap-around handles for an easy and comfortable grip

Microphone connector (If you own a Cox Box, it uses the same connector)

Siren/horn button emits a loud alert to grab people's attention from a distance

Removable and compact rechargeable battery eliminates the hassle of replacing multiple batteries and wasting money each year

Battery lock ensures your battery will stay locked in place no matter how you use your megaphone

Large volume and power dial in a convenient location allowing for easy adjustments

Optimal shape designed to deliver loud, clear sound

Waterproof, it floats

Drop resistant, bounces without breaking

Meets MIL-STD-810G transit shock standard

Long-lasting battery

Designed and built in the USA
FEATURES
SPECIFICATIONS
VIDEOS