Description
IS4120P 4 x 120W Power Amplifier with Ethernet Control
4 x 120W Power Amplifier
Ethernet, DSP, Dante® Support
Features
• 4 x 120W power amplifier
• 4 ohm, 70V and 100V output options
• Class D topology
• Ethernet Control
• Embedded ALMA Control Software accessible using any HTML5 web browser
• Full DSP – Input Matrix, Filters, Parametric Eq, Compressor / limiter, Delay, Mute, Inversion
• 4 software configurable general purposes input/outputs
• ErP(1275/2008/EC) Low Power Standby (<2W)
• 4 Input, 4 Output Dante® support using expansion card DM4x4
• Additional 4 Analogue line inputs using expansion card ANALOGUE4
Specifications
Videos
Accessories
FAQs
CLASS-D AMPLIFIER
The ISP amplifiers use an efficient Class-D amplifier topology allowing a greater power density with a much lower weight.
All amplifier channels offer 100V, 70V and 4Ω output options so you can choose the output configuration to match your application.
NETWORK CONTROL
The ISP amplifiers all feature an Ethernet network port to allow easy configuration of the device and the ability to remotely control and modify the amplifier.
Connect, Configure and Control the ISP amplifier from any HTML5 complaint web browser.
The ALMA control software is embedded into the amplifier and requires no software installation.
Featuring a clean, easy to use interface it allows you to setup and monitor the amplifier from PCs, tablets and mobile phones with ease.
To view a DEMO of the control software go to the IS4250P Demo.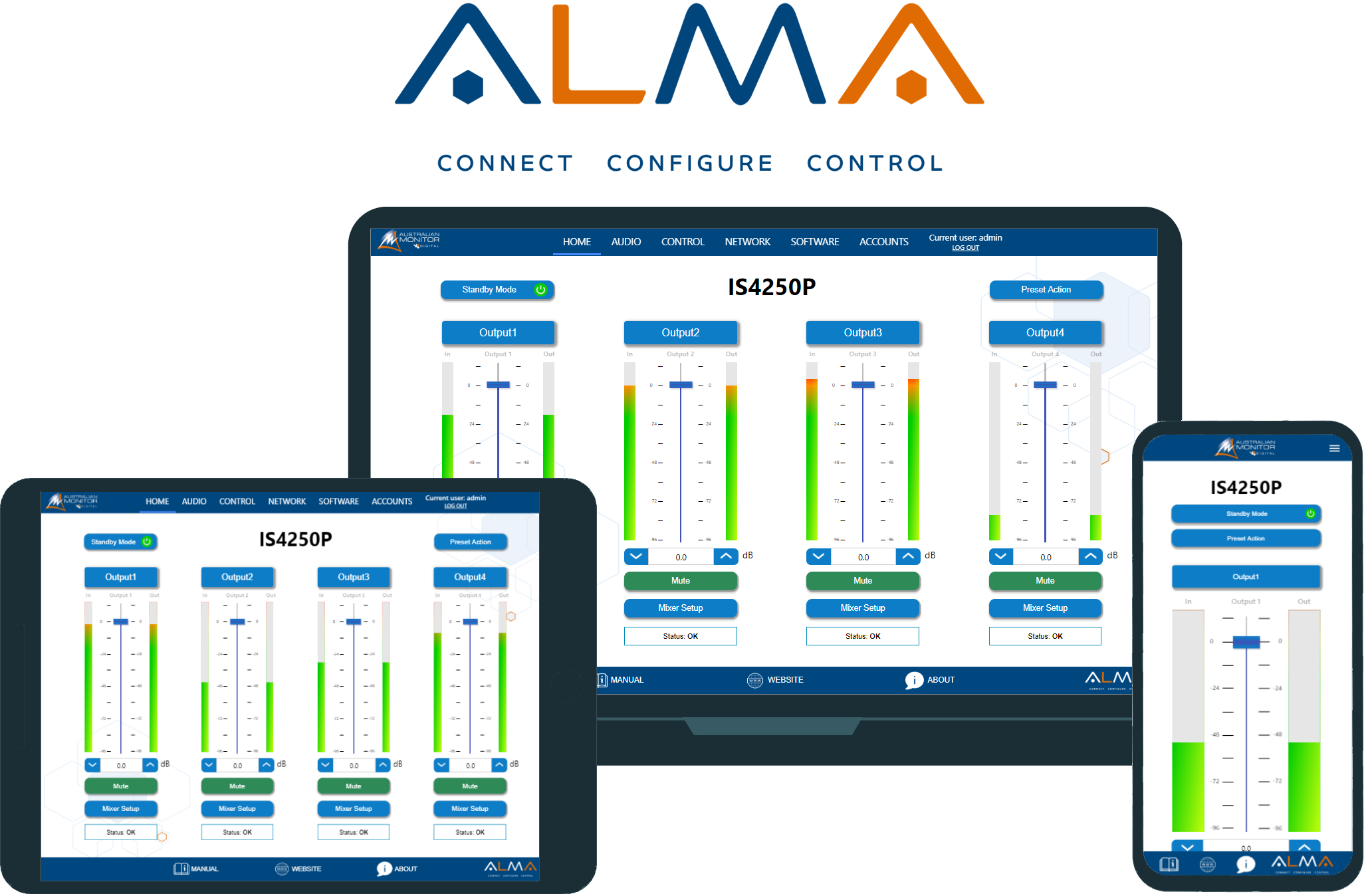 INTEGRATED DIGITAL SIGNAL PROCESSING
The ISP amplifiers include a full DSP engine with the following features,
• Input Matrix
• High, Low, All-Pass Filters
• Parametric Equalisers
• Compressor/limiters
• Delay
• Mute
• Inversion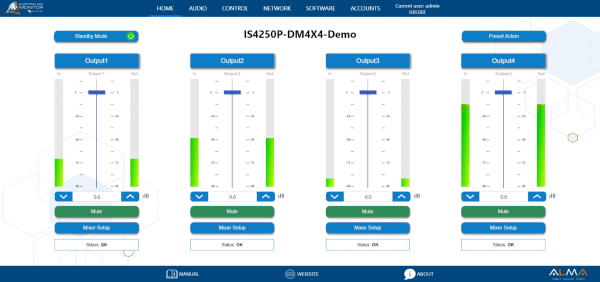 GENERAL PURPOSE INPUT/OUTPUTS
The ISP features four GPIO ports for use with the following functions,
• VCA Volume Control input using an RC1 Remote Volume Control
• Amplifier Output/s Muting through contact closure
• Recalling of presets through contact closure
• Reading status of amplifier signal level outputs
Expand the capabilities of the ISP amplifier with the optional DM4x4 Module.
The DM4x4 provides 4 Dante™ input channels and 4 output channels.
The amplifier analog inputs can also be routed back on to the Dante™ network providing a powerful capability to network the local input sources.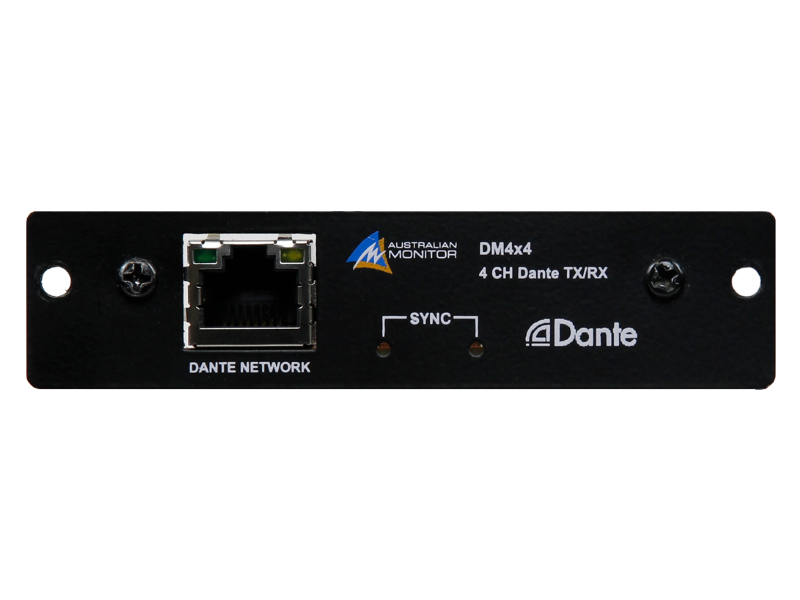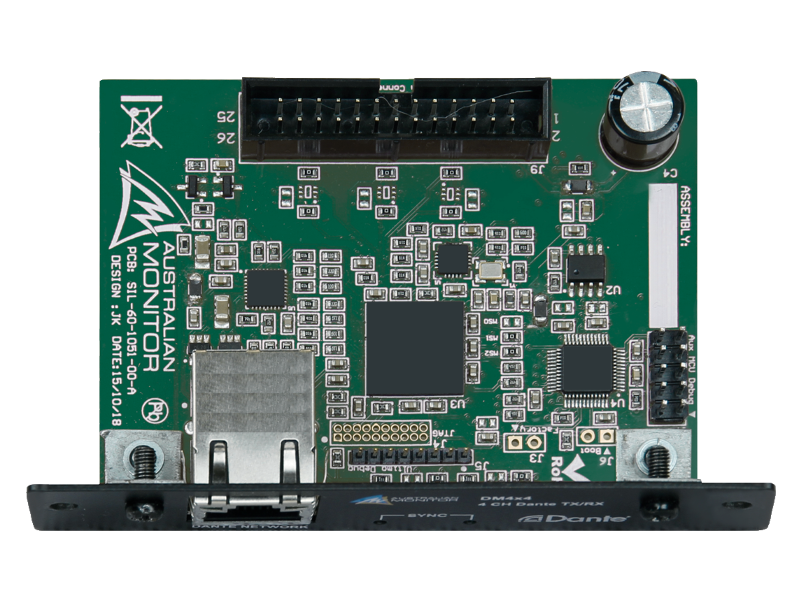 Ensure that your system never stops performing by using fallback redundancy.
Monitor the audio level of any input and if it falls below a user-settable level it will automatically switch to another input source.
If the audio returns from the failed channel the amplifier will seamlessly switch back to that input source.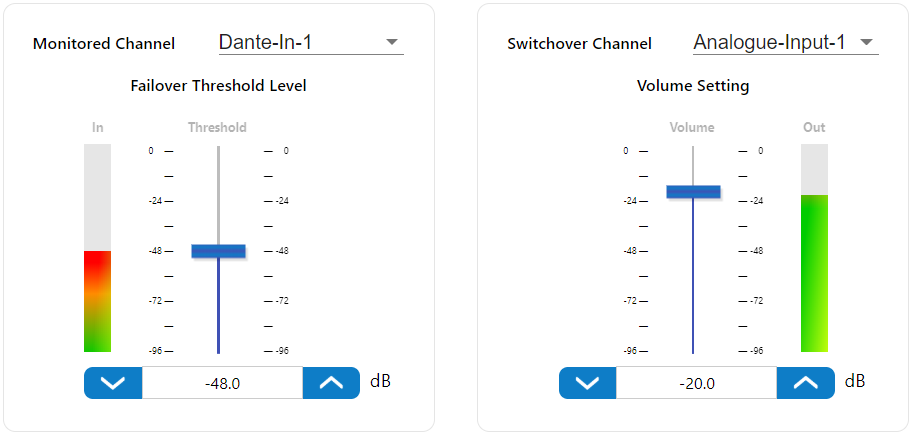 The ISP amplifiers can expand their analogue inputs for greater mixing possibilities using the ANALOGUE4 Module.
This provides an additional 4 analogue audio inputs to the ISP for expanded mixing possibilities.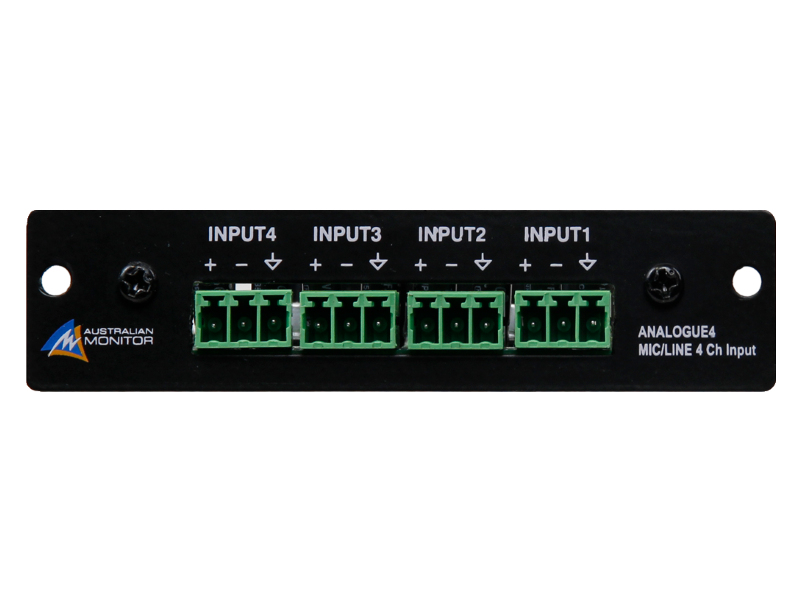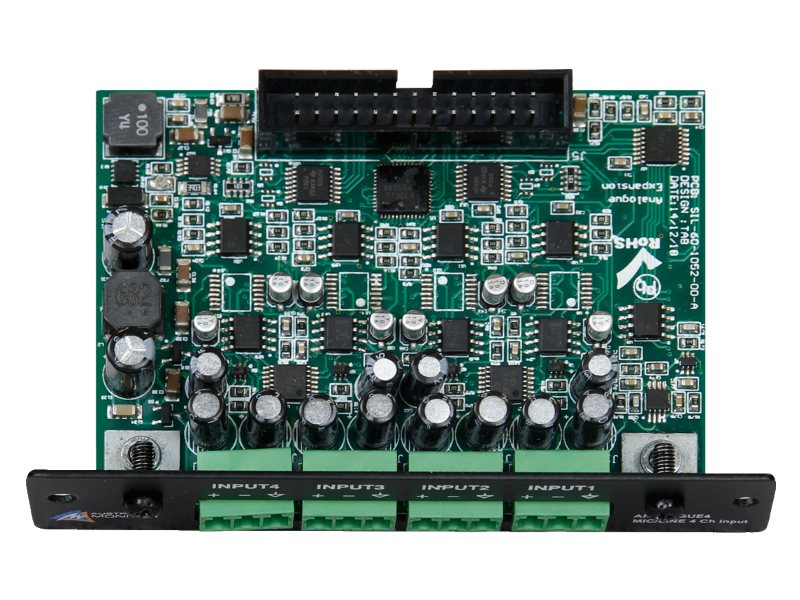 ERP COMPLIANT WITH AUTO STANDBY FUNCTION
The ISP series is a complaint to the European Energy-related product (ErP) Directive consuming less than 2 watts in standby mode.
Featuring an auto-standby mode, the ISP can detect loss of input signal and enter standby.
The ISP can then awake when the input signal exceeds a user-settable threshold.
Select your next power amplifier to be the most efficient possible and reduce running costs.
Take further control of the ISP amplifiers with 3rd party system support over both TCP and UDP protocols.
The ISP has a full suite of documentation to integrate the ISP with your control solution.
3rd party control systems which already integrate the ISP amplifiers,
• Neets Project Designer
• Xilica Designer