A must for every meeting room, this multi-function interactive projector is the complete solution for all meeting scenarios including instant meetings, boardroom presentations, brainstorming and training sessions. With whiteboard function, dual pen interactivity, control pad operation and brightness of up to 2,600 lumens Light Output and 2,600 lumens Colour Light Output, the EB-1400Wi is perfect for any meeting room.
KEY FEATURES:
Whiteboard Function – Perfect alternative to copyboards, conventional whiteboards and old fashioned flip charts, this easy-to-use function facilitates "instant meetings" without the need for a PC! After the meeting, you can save, print or email the meeting notes.

Save

– Load and save image files on USB or network drive.
Print – Print your meeting notes wirelessly (peer to peer) or to the network printer.

Email

– Instantly share your meeting notes via email – to an individual or group address.

Capture

– Capture a screenshot from other sources (eg PC, DVD, iPad etc) and annotate over it on the whiteboard. From there you can save, print or email the annotated version.

Split Screen Function

– Allows images from 2 input sources to be projected simultaneously.
Control Pad for Easy Operation – Neatly designed and easy to install control pad for efficient and intuitive operation. All buttons on the control pad can also be found on the remote control.
Remote Interactive Collaboration – Collaborate from multiple remote locations (up to 4)*
Wireless Projection and Interactivity – Projection and interactive function without the wires (using peer to peer wireless and Epson's EasyMP Network Projection software version 2.81)
Dual Pen Interactivity – With simultaneous dual pen functionality, you and a colleague can annotate at the same time.
No Driver Installation Required – Installation has never been easier (Driver install is required for Mac)
Advanced Networking Capability – Enables users to monitor, control and present from a remote location
Broad Connectivity Including HDMI – HDMI, DisplayPort, USB display, PC Free slideshows, network and wireless connectivity

Lowest Epson Lamp Price Ever Seen

– Incredibly low price of only $79 inc GST (RRP)
10W Built-in Speaker – Built in audio with the power to fill the meeting room
* Must be on the same network and use Epson's EasyMP Network Projection software version 2.81.
FEATURES AND BENEFITS:

Whiteboard Function with Control Pad operation – Interactivity without a PC!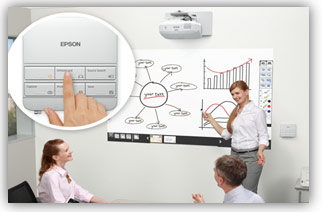 With the new Whiteboard function, now you can start a meeting "instantly" without the need for a PC! Simply walk into the meeting room and switch to Whiteboard mode and start writing notes or annotating images. The new control pad facilitates these functions with simple and intuitive command buttons. What's more, the function buttons on the control pad are replicated on the remote control, so it's never been easier to get going.
Of course, you can still access your content from other sources such as PC, DVD, iPad, visualiser etc. For content from other sources, you can capture a screenshot and start annotating it on the Whiteboard.
At the end of your meeting, you can SAVE, PRINT or EMAIL your meeting notes. It's that easy!



SAVE your meeting notes on a USB drive or the network drive. Files can be saved as PDF or PNG format. Never lose any of your meeting notes and action points again!



PRINT your meeting notes wirelessly (peer to peer) or to the network printer, so all team members can walk away with the action points or key takeaways from the meeting.



EMAIL the meeting notes from the Whiteboard to your email address or to a group address, so all attendees can have a record of the meeting.

| | | | | |
| --- | --- | --- | --- | --- |
| Add up to 50 pages - there's no need to worry about running out of space when writing meeting notes or importing information on the Whiteboard. | | Intuitive toolbar design - with simple icons makes it easy for anyone to import, write, save, print and email meeting content. | | Pre-installed templates - comes with 10 practical templates to make use of. It's also possible to create and install your own templates. |

Smart and Speedy Information Sharing
Using the new Whiteboard mode, you can input and output content digitally and easily.
INPUT – load your PDF or PNG file via USB, network drive, scanned image or wirelessly from your mobile device (using Epson iProjection app). Once the content is imported to the Whiteboard, you can annotate as you please.
OUTPUT – after the meeting, you can SAVE, PRINT or EMAIL your meeting notes.

In comparison with conventional copyboards, sharing information using the EB-1400Wi is quick and simple.


Upgrade to Ultra-Short Throw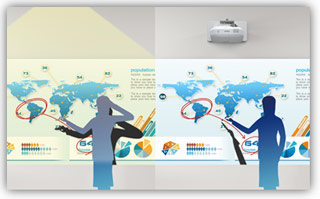 Capable of producing an interactive image size anywhere from 60" up to 100" diagonal (native WXGA) on nearly any wall surface, the Epson EB-1400Wi delivers an amazing interactive work environment. Thanks to this Ultra-Short Throw distance, presenters are able to deliver rich multimedia content without the distraction of glare in the eyes, or shadows on the board disrupting vision. With the added benefit of 3LCD Technology, presentations will feature rich, vibrant colours that bring content to life. Plus, with a 2,600 lumens Light Output and Colour Light Output, there is no need to dim the lights or draw the curtains, so meetings can start straight away without interruption.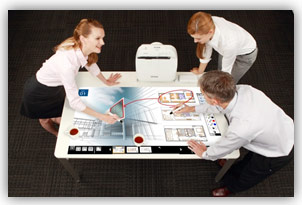 An Interactive Workspace for Collaboration
The EB-1400Wi can also project vertically downward, enabling users to change a table top into a workspace perfect for collaboration. By utilising the optional ELP-MB29 table mount, an ordinary table becomes a centre for creative collaboration for your team.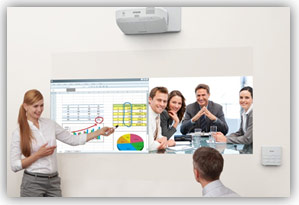 Split Screen
With the split screen function, images from 2 input sources can be projected and viewed simultaneously. This function is also a perfect tool for video conferencing, so you can view the content from your PC and your colleagues from the other end.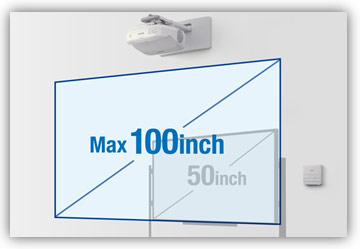 See More with the Big Screen
While conventional whiteboards are limited to pre-determined height and width, the EB-1400Wi has no such constraints. Set the size of the interactive area to fit the available space in your meeting room (WXGA from 60" to 100" diagonal screen size).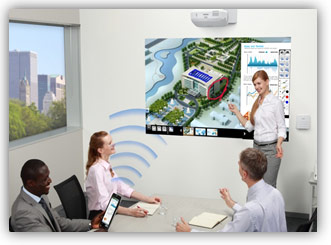 Mobile Device Compatibility
Use wireless projection to view files, photos and more from your mobile devices such iPad, iPhone, iPod and Android devices. With PC free annotation tools, you can highlight, annotate, draw and make notes on the displayed content.
With Epson's iProjection app, you can display and control content from your iPad, iPhone, iPod and Android devices. With this app, road warriors can travel lightly and present from their mobile devices.

Find out how to set up your Epson iProjection app and learn more about your projector and device compatibility, visit Epson.com.au/iprojection
Interactive Functionality with Multi User Capability
In the past, you needed a projector and an interactive whiteboard to create an interactive environment in a meeting room. Now, you can make almost any wall interactive with the EB-1400Wi.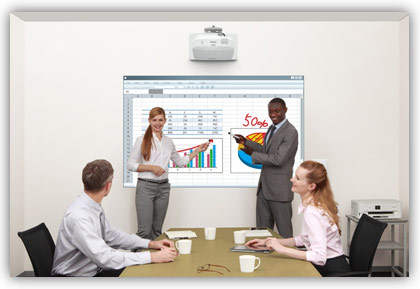 These high performance "projector and interactive-pen" combinations each integrate interactive functionality into one machine. With no requirement for an interactive whiteboard, you can utilise an existing pen-based whiteboard or even a flat wall for full colour presentations, interactive brainstorming sessions, annotation on-the-fly and much more.
With the EB-1400Wi and the easy to use (Easy Interactive Tools 2) software (via download from www.epson.com.au) you can turn your whiteboard into a fully interactive business tool. At the end of your meeting, simply save the file for printing or emailing to attendees.
Revolutionise the way you interact with your audience by utilising the Multi User capability. The EB-1400Wi ships with two interactive pens, both of which can be used simultaneously.

Multi-location Interactive Collaboration, Wireless Monitoring and Interactivity
Unlock the full potential of network-ready Epson projectors by attaching to your LAN via a wired or wireless connection. Network-connected projectors not only allow users to present visual and audio content over the LAN, but also to annotate on network content using Epson's instant annotation tools. Using the included EasyMP® Network Projection version 2.81 application allows users to project a presentation via a maximum of 4 network connected projectors and enables individual mouse control from each location. This present the ultimate interactive collaboration via the network from remote locations.*
With Epson EasyMP® Monitor software, IT administrators can configure and monitor the status of their Epson networked projectors, including the remote viewing of power status, lamp hours, temperature/filter conditions and receive maintenance alerts.

* Must be on the same network and use Epson's EasyMP Network Projection software version 2.81.

Advanced Networking
It's possible to monitor and control networked Epson projectors from a remote location. Schedule power on or off timings, check projector status and receive maintenance alerts. Users can even project presentations in up to four rooms from one networked location.
Wireless Connectivity
With the included ELPAP07 Wireless LAN Unit, the EB-1400Wi projector can become a part of your 802.11 b/g/n wireless network. For incredibly easy peer-to-peer wireless connection on the fly without the need for additional software, add the optional ELPAP08 Easy MP quick wireless connection USB key.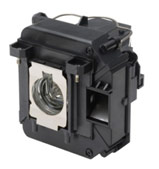 Low Cost of Ownership
The EB-1400Wi projector features a lamp boasting an estimated life of up to 5,000 hours and a cost of only $79 RRP. This series of projectors also benefit from a high efficiency electrostatic filter with an estimated maintenance cycle of up to 5,000 hours.
Warranty
The EB-1400Wi comes with Epson's 3 year standard warranty, so you can have peace of mind that your projector will not disrupt your business' productivity!
Connectivity Panel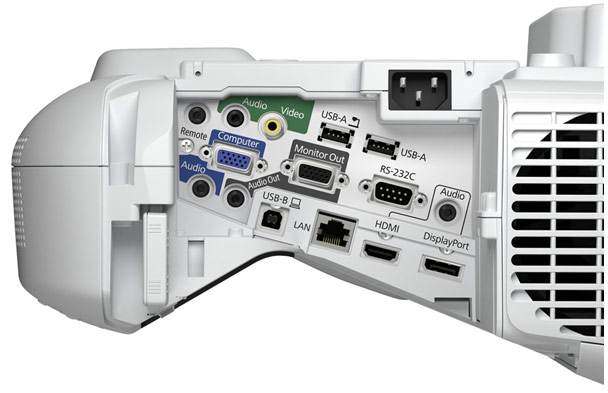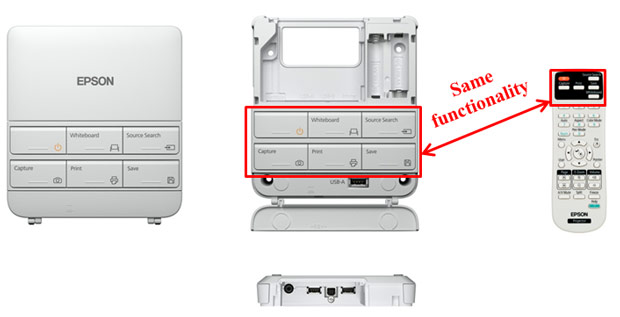 Product Specs
PRODUCT NAME
Epson MeetingMate EB-1400Wi
PRODUCT CODE
V11H481053
TECHNOLOGY
Projection Technology
Epson 3LCD, 3-Chip Technology
Projection System
RGB Liquid Crystal Shutter Projection System
LCD Panel
0.59-inch with MLA
OPTICAL
Zoom Ratio
1 - 1.35 (Digital Zoom)
Screen Size
60" to 100" [0.348 to 0.597m]
Projection Distance
74.3" Screen 0.438m
Throw Ratio
0.27 (Zoom: Wide),
0.37 (Zoom: Tele)
Projection Lens Type
No Optical Zoom /
Focus (Manual)
Projection Lens F Number
1.80
Projection Lens Focal Length
3.71mm
Focus Method
Manual Focus
Offset
6.0:-1
IMAGE
White Light Output
2,600 Lumens
Colour Light Output
2,600 Lumens
Resolution
WXGA
Native Aspect Ratio
16:10
Contrast Ratio
3,000:1
Keystone Correction
Vertical: -3 to +3 degrees
Horizontal: -3 to +3 degrees
CONNECTIVITY
Analog RGB Input:
Video - D-sub 15pin (Blue molding) x 1
Audio - Stereo mini jack x 1
Analog RGB Output:
Video - D-sub 15pin (Black molding) x 1
(Output signal : Computer 1 only)
Audio - Stereo mini jack x 1
Video I/O
Video - Composite Video: RCA (Yellow) x 1
Video - Component Video: D-sub 15pin (Blue molding) x 1 (in common with Analog RGB connector)
Video - RGB Video: D-sub 15pin (Blue molding ) x 1
(in common with Analog RGB connector)
Audio - Stereo mini jack x 1 (in common with Analog RGB Audio terminal)
Digital Input
HDMI x 1 (for Analog audio : Stereo mini jack x1)
Display Port x 1
Control I/O
USB - USB Type B x 1 (for USB Display, mouse, K/B, Interactive)
Serial - D-sub 9pin x 1
Remote Control Input - Stereo Mini Jack x 1
Memory I/O
USB Type A x 1 (for USB Memory)
USB Type A x 1 (for Document Camera)
Network I/O:
USB - Type A x 1 (Special I/O)
Wired LAN - RJ45 x 1 (100Mbps)
Wireless Connectivity
Included ELPAP07 Wireless LAN unit
Speaker Output
Monaural: 10 W x 1
ADVANCED FEATURES
Split Screen
Yes
EasyMP Network Projector control and projector management via network
Yes
EasyMP Network Projection
Yes
EasyMP Network Multi PC Projection
Yes
Windows Network Projector
Yes
Message Broadcasting
Yes
Search Access Point (Site Survey)
Yes
Network Firmware Download
Yes
Quick Wireless Connection
Yes
USB Plug 'n Play
Yes
Instant Off
Yes
Direct Power On
Yes
Security

* Kensington® - Lock Provision
* Padlock & Security Cable Hole
* Wireless LAN Unit Lock
* Password Protect Function (Power On, Network, Protection of User logo)

Colour Modes
Dynamic, Theatre
External control pad
Yes
EXTERNAL CONTROL PAD
Dimensions (excl Protrusion) WxHxD
136 x 149 x 29 mm
Weight
240 g (Excluding Batteries and Rubber feet)
Buttons
Power, Whiteboard, Source Search, Capture, Save, Print
Control I/O
Upstream Port - USB Type A x 1 (for USB Display, Mouse, K/B, Interactive)
Upstream Port (Remote Control output) - Stereo Mini Jack
Downstream Port - USB Type B x 1 (for USB Display, Mouse, K/B, Interactive)
Memory I/O
Upstream Port - USB Type B x 1
Downstream Port - USB Type A x 2 (for USB Flash Storage, Printer)
GENERAL
Dimensions (excl feet) WxHxD
367 x 155 x 375 mm
Weight
without Slide Plate: 5.6 kg
with Slide Plate: 6.3 kg
Lamp Warranty
1 Year (or 750 hours)*
Projector Warranty
3 Years
Lamp Hours
3,500 hours (Power Consumption : Normal)
5,000 hours (Power Consumption: ECO)
Lamp Type
190 W UHE
Power Consumption: Lamp On
281W (Normal)
222W (ECO)
Power Consumption: Standby
5.0W (Communication On)
0.27W (Communication Off)
Fan Noise Level
Brightness Control Normal: 35dB
Brightness Control ECO: 28dB
WHAT'S IN THE BOX
Projector Main Unit
Wall Mount Setting Plate
Cables
5m Power Cable
5m USB Cable 1 (Projector - Control Pad Connection)
5m USB Cable 2 (Projector - Control Pad Connection)
1.8m USB Cable 3 (PC - Control Pad Connection)
Wireless Unit
ELPAP07 Wireless LAN Unit
Remote Control
Remote Control
Battery (AAx2)
Control Pad
Control Pad
Battery (AAx2)
Interactive Pens
ELPPN03A Interactive Pen (Orange)
ELPPN03B Interactive Pen (Blue)
Pen Case
Battery (AAx2)
Documentation

CD (No. of language)
Quick Start Guide
Template Sheet
Warranty Card
Registration Card

Software CD

EIT2 & Driver for Mac
EasyMP Network / Multi PC / Slide Converter Projection